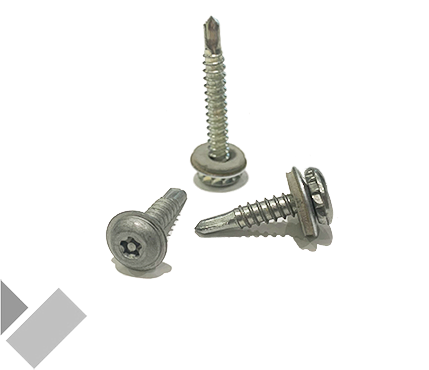 Self Drilling Security Screws
Self-drilling screws operate on the same principles as drill bits and other cutting tools. The drill tip at the end of the screw eliminates the need for pre-drilled holes.
Drill Tip lengths vary depending on material thickness. It is important to ensure the drill tip has cleared the substrate material before thread engagement to prevent fastener shear.
Head 
Pan & Countersunk
Recess 
6-Lobe Plus Pin
5 -Lobe Plus Pin

Materials
Hardened Steel with Dacromet, Magni or Zinc Plated Finish
Powder Coated Heads – All RAL colours
Sizes
Diameters – 4.2mm, 4.8mm, 5.5mm, 6.3mm,
Lengths up to 50mm (2″).
How can we help?
Whether you are looking for an off the shelf item, scheduled delivery or vendor management, Vertex specialise in reducing costs without compromising performance.
We believe consistency, loyalty and integrity are fundamental to developing long standing business relationships.
Our extensive stock and competitive pricing combine to give you exceptional service and an unrivalled experience.