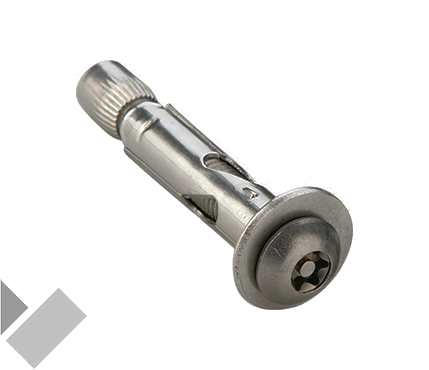 Security Anchors
Typical security applications include securing street furniture, outdoor gym equipment and surveillance cameras. Vertex offer options for both Removable (Two Way) and Permanent (One Way) anchors.
Security Bolt Type –  Sleeve Anchors
Button & Countersunk
Recess
VTEX special drive, 6-Lobe plus Pin,  5-Lobe plus Pin & Pin Hex.
Materials
Steel (Magni or Zinc) & A2 Stainless Steel.
Size
M6 – 8mm Sleeve, M8 – 10mm Sleeve, M10 – 12mm Sleeve
Lengths – Up to 120mm
Security Nut Type – Through Bolt
Removable (Two Way) or Permanent (One Way) Security Nut
Material
Steel Zinc Plated & A2 Stainless Steel
Size
M6, M8, M10, M12 & M16
Lengths up to 200mm
How can we help?
Whether you are looking for an off the shelf item, scheduled delivery or vendor management, Vertex specialise in reducing costs without compromising performance.
We believe consistency, loyalty and integrity are fundamental to developing long standing business relationships.
Our extensive stock and competitive pricing combine to give you exceptional service and an unrivalled experience.