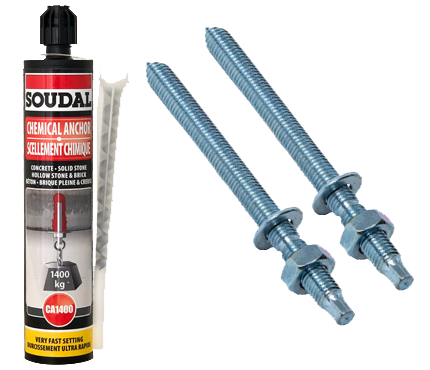 Resin Anchors (Chemical Fixings)
In some situations, the use of an expanding anchor fixing in a structure can cause splitting or cracking to the material it is being drilled into. This is most common when anchors are used toward the edge of the material such as brickwork or concrete, which directly impacts the strength of both the material and the fixing iteself.
A solution to this is to use Resin Anchor. A resin is injected into a pre-drilled hole with an anchor inserted, and once the resin has cured, it provides a solid bond to the anchor, without expansion, preventing the risk of splitting or cracking.
We supply all types of resin anchor, along with the chemical resin, bonding agents and resin injection sleeves/capsules.
Finish
Galvanised, Zinc Plated, Stainless Steel.
Details
M8-M24 Hex Drive, M8-M24 Flat End (Stainless)
Contact us for further information.
How can we help?
Whether you are looking for an off the shelf item, scheduled delivery or vendor management, Vertex specialise in reducing costs without compromising performance.
We believe consistency, loyalty and integrity are fundamental to developing long standing business relationships.
Our extensive stock and competitive pricing combine to give you exceptional service and an unrivalled experience.